SkyServer: Education with SDSS Data

Since 2001, the SDSS team at Johns Hopkins University has provided access to the full archive of the Sloan Digital Sky Survey for students, teachers, and the public.
Learning Science with SDSS
In addition to these easy-to-use tools, the SDSS team at JHU worked with several educators nationwide - from fourth grade through graduate-level seminar instructors - to create a series of Educational Projects to teach astronomy and other sciences using SDSS data. Each project centers around open-ended exploration of SDSS data to learn concepts in astronomy, physics, and other sciences.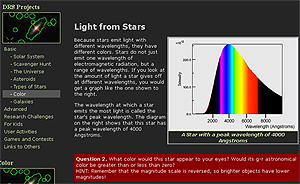 In the Color project, high school and Astronomy 101 students explore why different stars have different colors
Projects are divided into three levels:
Basic projects are appropriate for high school science classes and college Astronomy 101 courses
Advanced projects are appropriate for more advanced college courses, and for deeper exploration and independent research by high school and college students
Research Challenges are long-term investigations into the universe using SDSS data
All projects have complete Teacher Guides, which include sample solutions, links to additional scientific background, and correlations to Project 2061 national science standards.
SkyServer educational projects have been used by thousands of instructors all over the world, from elementary school science classes through graduate-level astronomy courses.
Accessing the Data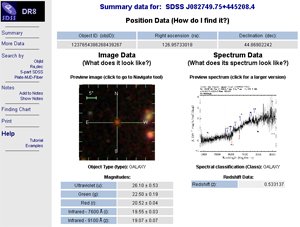 The Quick Look tool was designed to give non-astronomers easy visual access to SDSS data.
Making SDSS data useful to educators and the public requires creating data access tools tailored to their needs. That process began as soon as the team began creating SkyServer. The team worked with students, teachers, and amateur astronomers to design tools that would be easy to use, intuitive, and fun for these audiences. For example, the Quick Look tool shows a simplified view of data for any star or galaxy, and the Search Form tool allows users to search the SDSS database by selecting options from menus.